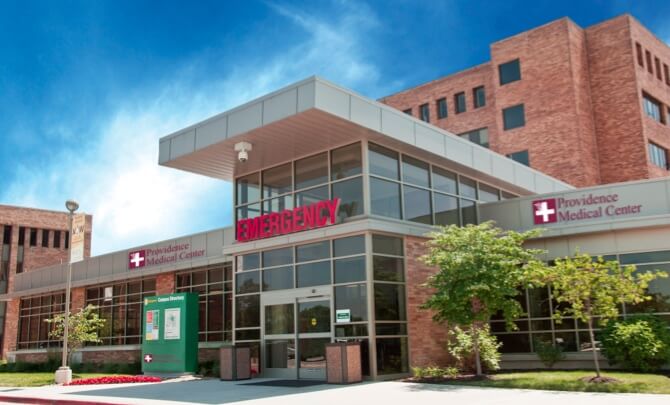 About Providence Medical Center
Providence is a community hospital affiliated with Prime Healthcare. Providence is also affiliated with Saint John Hospital, located in Leavenworth, Kan. More than 1,100 skilled and qualified individuals provide nursing, medical and support services. Staff along with about 200 devoted volunteers help us serve the health needs of Wyandotte, Leavenworth and northern Johnson counties and surrounding areas.
Providence is also certified as a Medicare/Medicaid provider and approved to accept many major health insurance plans.
Providence does not discriminate with regard to race, color, age, national origin, disability, sex or religion in admitting or providing services and programs to patients/clients.
Services We Provide:
Orthopaedic care, including total joint and hip replacements
Neurosurgery
Interventional radiology for minimally invasive treatments for uterine fibroids, cancer, vascular disease and liver disease
Spine care
Cardiac care, including cardiothoracic surgery, cardiac catherization, a congestive heart failure program and rehabilitation
Cancer care through inpatient and outpatient treatment and the Radiation Oncology Center
Family care, including maternity, obstetrical, gynecological and pediatrics
Rehabilitation programs for a range of conditions, including musculoskeletal problems, lymphedema, low vision and pelvic incontinence
Sports medicine
Sleep disorders, including insomnia, snoring and sleep apnea
Outpatient services feature same day surgery, pain management and diagnostic procedures
These services are supported by advanced technology and the expertise of the Medical Staff representing diverse specialties.
View our Non-discrimination policy.
Why Choose Providence Medical Center
Healing, Body and Mind
Receive the care you need, from heart care and wound healing to preventative care and services specifically for the seniors in our community. 
Close to Home, High-Quality Care
Get the care you need without travelling far from home. Our team provides top-quality care in your home community. 
Emergency Care When Needed Most
Count on the emergency medicine physicians and team Providence Medical Center for emergency care 24 hours a day, every day. 
Quality
We are committed to always providing exceptional care and performance.
Compassion
We deliver patient-centered healthcare with compassion, dignity and respect for every patient and family.
Community
We are honored to be trusted partners who serve, give back and grow with our communities.
Physician-Led
We are a uniquely physician-founded and physician-led organization that allows doctors and clinicians to direct healthcare at every level.